Thanksgiving
The Biography of an American Holiday
James W. Baker

Published: September 2009

University of New Hampshire Press
University Press of New England
2009 • 320 pp. 40 illus. 6 x 9 1/4"
History - American / Holidays
$26.95 Paper, 978-1-58465-801-6
The origins and ever-changing story of America's favorite holiday
In this, the first in-depth study of the most American of holidays, James Baker sweeps away lingering myths and misconceptions to show how this celebration day was born and grew to be an essential part of our national spirit. Thanksgiving: The Biography of an American Holiday opens with an overview of the popular mythos of the original holiday before discussing its possible religious and cultural precedents. This classic Yankee holiday is examined in historical and contemporary detail that covers everything from proclamations, sermons, and local and regional traditions to family reunions, turkey dinners, and recipes.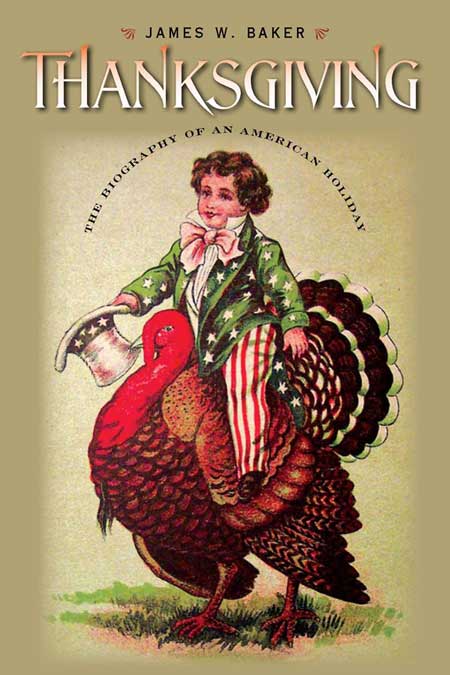 The changing face of the holiday is illustrated with charming and often revealing period prints that chart our changing attitudes: the influence of Victorian sentiment in Thanksgiving's development, Progressive utilitarianism, intellectual "debunking," patriotic wartime reclamation, and 1960s-era protest. All these topics are examined, showing how a holiday's meaning shifts and morphs over historical periods. Thanksgiving remains controversial up to the present day, as Mayflower descendants, Native Americans, and commercial exploiters compete for the American public's opinion of the holiday's contemporary significance and its future status. This is an intelligent and illuminating introduction to a beloved holiday and a fascinating cultural history of America and Americana.
"For good or ill Americans have always considered themselves exceptional. This remarkable self image first appeared on a fall day in 1621 when the Pilgrims gathered 'so [that] we might after a special manner rejoice together' and reflect on the 'special providence' God had granted them. Their Native American guests watched bemused. Like 'Camelot' Baker writes 'there once was a time when with the best intentions, two very different cultures came together.' From that moment on Thanksgiving has become the most persistent, if not controversial, celebration in America. Perfectly historical (mythological?) and encrusted over the centuries in hyperbole and invention, it has nonetheless survived as one of the least pretentious of all our national holidays dedicated to simple fare and family gathering. No one but Jim Baker could unravel the true meaning of this holiday with such expertise and grace. By explaining 'Thanksgiving' Baker goes to heart of revealing American character."—William M. Fowler, Jr., Distinguished Professor of History, Northeastern University

"For anyone interested in New England and America and the lengths to which our collective fascination with the past influences what we do today, James Baker's Thanksgiving: The Biography of an American Holiday is a must read. Combining a lifetime of research with a wonderfully readable prose style, Baker has created a tour de force of historical and cultural analysis."—Nathaniel Philbrick, author of Mayflower
For a preview of the book, see the sample chapters links at the head of this page.
(Home)