Class of 1963 News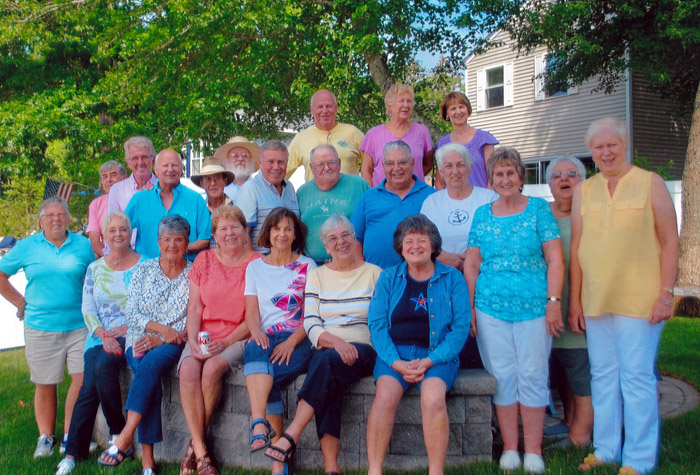 FRONT ROW: Donna (Henning) Eddy, Christine (Martin) Morra, Ann (Albertini) Tiernan, Beverly (Askins) Santarpia, Nancy Fortini, Dorrie (Searles) Woods, Carol (Nickerson) Taber, Kathy (Longever) Coffin, Sandra (Wood) Jenkins
SECOND ROW: Donald Cavicchi, David Botelho, Wayne Tessin, Ed Herries, Robert Tavares, Donna (Hadaway) Seymour Bunce, Lorraine (Botelho) Ferreira
THIRD ROW: Stanley Trask, Ken Tavares, Jim Baker, Carl Freyermuth, Debbie (Barlow) Torrance, Marilyn (Lamb) Felton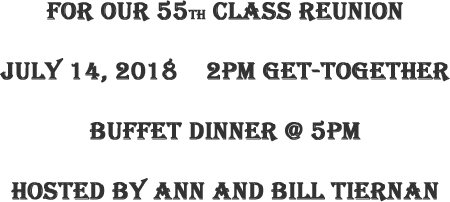 20 Chapman Lane Plymouth (Manomet)

$30 PER PERSON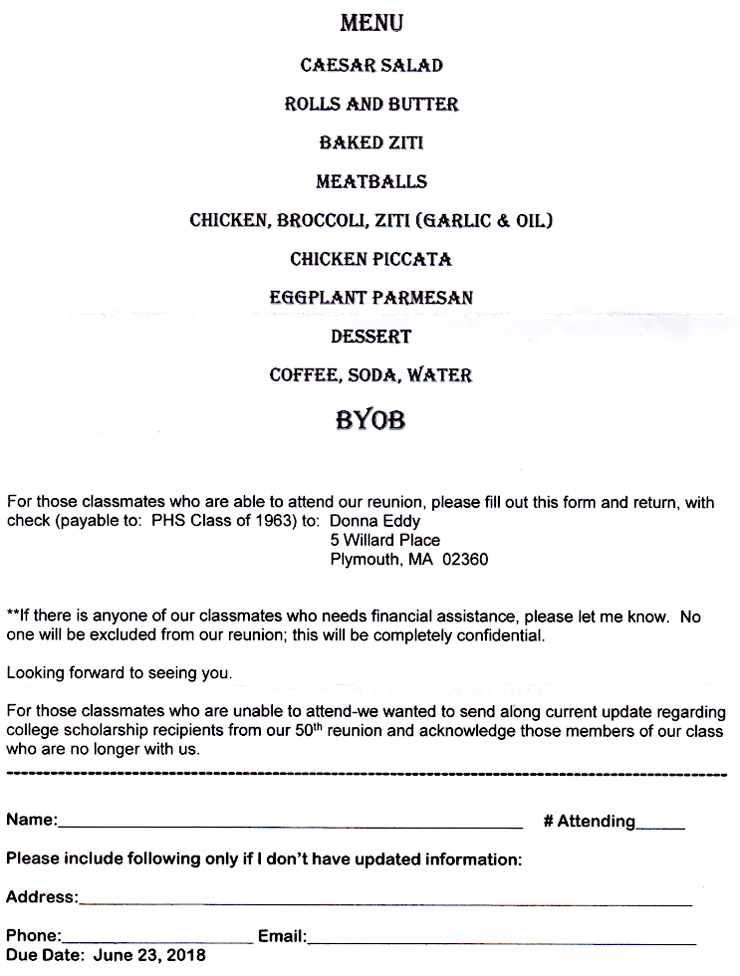 We are looking forward to seeing those of you who will join us on July 14th, and recognize that it isn't possible for some of you to be here for our celebration. For those of you who are unable to attend, you will always be a part of our class and in our thoughts.
We want to thank those who so generously donated to take care of any postage needs over the next few years. At this time, we plan to meet every year on the same weekend in hopes that those who do not live locally may be home in July.

At our 50th Reunion we awarded six $1500 scholarships: two at Plymouth North High School, two at Plymouth South High School, and two at Plymouth South Technical High School Program. As you will see below, all six recipients graduated from 4-year colleges; one recipient started at a community college and just graduated this year. The Class of 1963 sent cards to each of the scholarship recipients as he/she graduated from college.

HELP: As of our 50th reunion, we had found all but one classmate based on returned letters. This year we find that some have moved and have not shared their new addresses. We are trying to contact: Rick Davis, Charles Reese, Paula (Palavanchi) Smith, Rodney Joseph, Jeff Axelrod and Lorraine (Holmes) Schmidt. We would appreciate any information regarding these classmates.
Please let us know if you have a change in address so that we may stay in contact with you.

Jim & Peggy Baker's Personal Website: Along with Plymouth history, there is a section on PHS 1963: Reunions, '63 Updates, 1963 Memories, News. Many thanks to Jim and Peggy for their efforts on behalf of our class and the town of Plymouth.

Update on Treasurer: Beverly (Askins) Santarpia has agreed to fill in as our treasurer as Tom Eddy has relocated to a warmer, much warmer, climate. All of the checks that come to me are recorded and then given to Beverly for a second recording and deposit. Beverly will keep all financial records for our class; she will also write checks for all bills related to our class activities. Any questions, the following names are on the account: Beverly Santarpia, Donna Eddy, and Ken Tavares.

We're looking forward to having many of you join us on the 14th….very casual dress.

50TH YEAR REUNION SCHOLARSHIP RECEPIENTS' UPDATE
Zachary Darsch~ Suffolk University: Marketing-employed as a Digital Marketing Specialist for Knowledge Visions in Lincoln, MA
Haley Garvey~ Bryant University: Nursing
Emma Machado~ Assumption College: Science and Math-will become a middle school science/math teacher
Elsa McGilvray~ University of Massachusetts Dartmouth School of Nursing
Mikaela Oriola~ Texas A & M: Graduated in 2018-Business
Kathleen Payzant~ Rivier College: Maternity Registered Nurse at Signature Healthcare Brockton Hospital & SMG

Whenever I think of the past,
it brings back so many memories.


---